When it comes to attending an international conference, a lot of things are required for the attendees to arrange. However, the most important thing of all has to be adequate funds. Without adequate funds, it's not possible for the attendees to fly to the conference's destination and access professional development opportunities. 
Although the one who has money doesn't have to struggle much and they can easily travel to the conference destination. But, there are many people who suffer from financial barriers. For them, a feasible and efficient way to attend an international conference is by getting an international travel grant for the conference. 
Now, what is it, and how to get one? We will discuss them all below:
What is an International Travel Grant?
Travel grants for international conferences are funds offered by any recognized entity (like a government department, corporation, trust, etc.,) to the scholars/students, so they can attend the international conference. These grants are non-repayable and cover everything, including the travel fair.
To get the travel grant, the funding entity may ask you to submit an application or proposal. The proposal is your ticket for getting funds. So, you must write it briefly and justify why you are worth their investment. Depending on the organization, you may also be called for an interview. 
Travel grants, in general, aren't limited to conferences alone. It can also be given for seminars, events, meetings, and related programs. 
Who Can Offer Travel Grants for International Conferences? 
There are several entities that can offer travel grants for international conferences. This includes:
Research Centres
Academic institutions
NGOs
Government/local bodies
Professional societies

,

etc.

 
Requirements for Getting Travel Grants
To get a travel grant, you must meet the eligibility criteria of the particular organization. The requirement may differ from entity to entity. However, it may include the following:
Bachelor's, master's, or equivalent degree from a recognized university

Certain age requirements (may not be applicable for scientists)
Some organizations may look solely for candidates who haven't received any travel support in the past years. So, check for all the requirements thoroughly before applying. 
How Do I Get an International Travel Grant?
Getting an international travel grant for a conference isn't child's play. As someone is putting their money on you, they will require your complete justification as to why you are best suited for the grant. So, you will have to work hard and compete against other attendees. 
However, the initial steps to getting an international travel grant for a conference are as follows:
Find all the research potential funding sources that are related to your field of interest. You may get grants from organizations, universities, and institutions. 
Go through the guidelines of the grant provider and check their eligibility. See whether you meet the eligibility criteria or not.
Come up with a proposal/application featuring an outline of your complete plan. Mention what your aims and objectives are at the conference destination. 
Keep all your supporting documents, like your resume, letter of recommendation, and transcripts, handy. 
Once your proposal is approved, use this opportunity wisely. 
Where Can I Apply to Get a Travel Grant for an International Conference?
When it comes to getting travel grants to attend international conferences abroad, there are various ways to access the funds in India:
Conference Organizer
Sometimes the international conference that you want to attend may offer the funding itself. In most cases, these funds are given to young students or speakers who want to contribute to the conference.  
So, it's best to check their website thoroughly and see if they are offering fully funded international conferences in Europe or other countries to the students/scholars. If they are, check how you can apply for the same and follow the process accordingly. 
University/Colleges
Not many people know this, but your academic institutions can also sponsor your upcoming international conference trip. Many times universities and colleges lay aside money for particular departments so deserving students can take part in seminars, conferences, workshops, or other relevant symposiums. They might sponsor one or two events yearly for such students. 
So, before reaching any other entity, ask your institution whether they have such plans for students. If they do, ask them about the procedure for getting the funds. 
Research Organizations and Agencies
Whether you want to attend fully funded international conferences in Canada or any other place, you can always ask certain agencies for funding. Here are some popular agencies that can fund your international conference trip: 
Department of Science and Tech (DST)

Council of Scientific and Industrial Research (CSIR)

University Grant Commission (UGC)

Indian National Science Academy (INSA)

Indian National Academy of Engineering (INAE)
Indian Council of Social Science Research (ICSSR)
Indian Council of Historical Research (ICHR)
Indian Council of Medical Research (ICMR)
For each of the above organizations, there are different money limits, eligibility, and process. Their duration for sending the DD may differ too. 
While some of these organizations may cover full travel fares with visa/registration fees, others may only cover the partial fare. So, go through everything before applying for your travel grant. 
It's recommended to apply for the travel grant at least three months before the conference. Once you connect with the organization, keep in touch with them through phone and email. 
How Do You Write an Email For A Travel Grant?
As mentioned earlier, to get your international travel grant for the conference, you must send an application and mention your justification for it. Some organizations may give you a full-fledged list of rules for writing an application letter. So, for such cases, make sure you follow the same.
Alternatively, you can try the below format for writing your application letter:
Start with the date and address 
Mention the conference details for which you have been selected
Write all the details of your prior work and funding supports
Mention the reason why you don't have funds to attend the conference
Write that you are thankful for the offerings of the organization and you would like to apply for the travel grant 
Mention all the things that you would do at the conference to boost your career
End your application with a request for consideration for your application
While this was a quick gist on how you can write an application letter for an international travel grant for a conference, you must follow the basic rules for application writing:
Use short sentences and acronyms.

Write in plain English for easy understanding

Be specific with your objectives

Write as per the priorities of the grant providers

Include all documents, information, and additional information. 

Send your application on time. 

Don't apply for multiple funders for the same grant. 
How Do I Write a Cover Letter For a Travel Grant?
Besides the application email, you must also submit the cover letter for a travel grant for a conference. Here's a quick guide on how you can write the same:
Use a formal header– It includes contact details, the date when you sent a letter, and the recipient's contact details. 
Self-Introduction- Write the title, purpose, values, and establishment of your organization, if any. 
Conference purpose- Mention the main purpose behind attending a conference.
Reasons for funding- Explain the reasons why you need the funding. Mention other details like the amount of funding required and how you are planning to use it. 
Impact of funding- Highlight the positive effects of your attending the conference and how it can be helpful for society as well. 
Conclusion- In the end, add a formal closing statement to conclude the cover letter. 
Just like the application letter, you must also follow some common guidelines when writing a cover letter:
Keep a narrative format for your cover letter

Ensure that the sentences are clear and concise

Proofread your write-up for any grammatical or spelling errors. 

Add a personalized signature at the bottom.

End up on a thankful note with regards.
It's recommended to maintain a conversational yet professional tone while writing your cover letter. That way, you would be eliminating long winding sentences or any jargon. Maintain personal contact with the reader to get a response in your favor.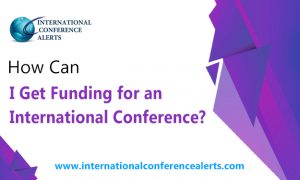 Things Necessary for Attending an International Conference
Before attending an international conference, you must consider one very important thing. That is time. Depending on when your international conference is scheduled, you must plan everything several months before. 
In most cases, it's the first time when scholars or students travel abroad. So, you must understand the process for better coordination all along. Besides that, here are the must-haves before you attend a fully funded international conference or other countries: 
Keep your passport in a safe place. Don't hand it down to any unknown person.

Always keep some cash handy.

Exchange your foreign currency before traveling

For a longer stay, you must get an international roaming facility on your phone

Carry laptops and other essentials to take notes during the conferences
Final Note
Summing up, that's how you can get an international travel grant for a conference. Make sure to follow all the above steps, and you will soon get good news from the grant providers. Good luck!