Attending an international conference should be educational and fun. However, it can also be quite alarming and lonely on occasion. Although attendance at international academic conferences is now almost essential to the development of one's career, irrespective of what discipline they belong to, most schools, universities, research institutions, and companies don't focus on how to apply to the best conferences and how to avail all the benefits of attending an international conference as part of their curriculum or priorities. Detailed in this blog are some tips for organizing yourself so that the experience is both scientifically productive and enjoyable. Essentially, applying to an international conference that you're interested in taking part in requires you –
to travel, 

check out places, 

meet new people, 

make new friends, and 

identify one or two ideas that may be able to apply in your own work or research.
Identifying An International Conference Worthy Enough Of Your Time
Finding the most useful meetings isn't always easy. Keep an eye out for relevant journal pages and check with friends who are already on the conferencing circuit. Some conferences are held at regular intervals. As soon as you know about the meeting, write to the organizers for details and request an application form. It is beneficial but not altogether essential to have a body of research work to demonstrate. It doesn't have to be a large or expensive project, but if it aims to interest science organizers and is accepted for presentation, it gives you a legitimate reason to participate. Many departments will only support you or grant you leave if you plan on presenting a paper or poster.
The Typical Sequence Of Events Involved In Applying To A Conference
Identify relevant international conferences

Plan early to get time off, fundraise and book at preferential rates

Shop around for alternative travel plans, package offers, etc.

Check that you have tickets, passport with visas, insurance, travelers' checks, credit cards, and possibly international telephone cards

Get travel guides for the country and city

Get clothes adapted to the season and the climate, for formal and informal occasions, and for leisure.

Check your vaccination status and risk of contracting COVID-19 at the

dental conference

destination.

Make sure you have an adequate supply of medications that you need.
Pick An Event That You Vibe With
It sounds simple, yet it's worth remembering – the best way to get your research work accepted is to target it to a suitable international conference. Conferences can be big or small, specialized or wide-ranging, and focused or more interdisciplinary. Which conference is right for you depends on a number of factors, including your personality and the topic of your research work. In terms of personal preferences, some people are more comfortable in a small conference with between fifty and one hundred attendees, where you can get to know everyone well. Others, perhaps those who consider themselves as being a part of the "outgoing" end of the spectrum, might prefer busier, more lively environments than what one might expect from a larger conference that features hundreds of presentations on a wide variety of topics. In terms of research, ask yourself if your work would be interesting and informed by a broad range of topics and subjects, in which case you would want to participate in an interdisciplinary conference, or if it's more specialized, a more specialized event would be more suitable.
Another factor in choosing the ideal conference should be whether it is local or international. Given that often better funded, large international conferences tend to have the best reputations and therefore presenting there is more appreciated, you can definitely consider attending such an event just to pad up your CV. That said, it may be easier to get your work accepted at a smaller regional conference, and you may be more comfortable presenting at a low-pressure event if it's your first time. You can even choose to start small and scale up to larger conferences as your confidence grows. Funding is also crucial – how you're planning on paying for your travel and accommodation costs, is a concern you have to address head-on. Find out what budget you have at your university, as you may discover that you can get funding to participate in a cheaper national conference, but not an expensive international education conference. Sometimes it's also worth checking outside of your university, as the occasional independent institution will also offer to fund. This, nevertheless, will require a bit of research but could really be worth it.
Conference Alerts Are A Major Source Of Help
Finding a decent international conference, one that isn't being organized by predatory organizers (whose only objective is to scam you into paying up for a sub-par event), is hard enough. When it comes to finding events that will truly help you fulfill at least some (if not all) of your career objectives, the easiest option is resorting to a reliable conference alert provider. Internationalconferencealerts.com is a platform trusted by millions of research professionals, students, and educators worldwide. Not only are these alerts available free of cost, they also offer instant, accurate, and highly up-to-date conference info.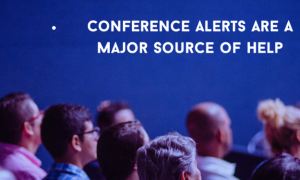 Raising The Required Funds & Acquiring Sufficient Grants
Attending an international conference is expensive, so you should look for ways to support your attendance. Universities, research institutions, and companies often have limited funds for meetings. Apply for study leave and money, although this will rarely cover the full cost. If you are lucky enough to have access to a research and education fund, sometimes ironically called a slush fund, that can help. If a donor agency has supported your research, you could have a provision for conference attendance grants listed in the budget. Trials of a drug, vaccine, or piece of equipment may have been supported by a company, and if your research shows promise, they may be generous in supporting your participation. Approaching foundations and trusts early on in your conference application journey is worth a go, especially if the topic of the meeting or your particular presentation is of interest to the trust/foundation.
Watch Out For The 'Call For Abstracts'
To discover when conferences are taking place, keep tabs on relevant websites and sign up for any newsletters that they may have on offer. You could start by asking your own faculty, as your professors will be familiar with most of the best annual conferences in the discipline and can direct you on the right path. When an international conference is ready to accept applications for presentations, it issues a "call for abstracts" in which it invites researchers to submit a brief summary of the work they wish to present. A call for abstracts usually is composed of information about the theme of the conference and topics that each one of the planned sessions will focus on. If you can find a way to tailor your work to one of the conference themes, you will increase your chances of your abstract being accepted. Make sure you don't miss any deadlines as lateness is looked down upon.
Make sure you prepare for the submission of an abstract well ahead of time. Acceptance to present will depend on your abstract, and clear writing is a skill that needs to be cultivated. It must impress the selection committee as being scientifically sound and interesting. Check the main theme of the meeting and its subsections. Target a particular section and capture attention with a catchy title. The conference request form will usually have a special page with a template and an example of how the abstract should be presented. An abstract with formal titles (objectives, methods, results, and conclusions) has a greater impact than a text paragraph.
If your work is accepted, your abstract will likely be photo-reduced in the abstract book that will be available at the business conference. The number of words that can be inserted into the model box is limited. Don't be tempted to reduce the print size to fit a longer abstract, as this will result in a print that will be nearly illegible on the photo-reduced page. You should ideally look to save on words, not print size.
Saving Yourself A Seat At The Conference & Booking Your Travel, Accommodation
Early check-in is usually cheaper, but it is often not possible to get permission and assistance quickly. Book into the closest and best hotel you can afford. If the meeting is to be held in a hotel, try to book there because you don't want to spend precious time traveling around an unfamiliar city in commuter traffic or expensive taxis. Ingenuity can help – be enterprising and keep an eye out for any discounts and deals that are being offered. Availing of one such discount can prove to be incredibly helpful in helping you save on a sizeable chunk of expenses that you might have had to incur otherwise. When it comes to visas, it's best to apply early if these are required. A lot of travel agents will take care of this for you. Dig up some information about the city and country that you're planning on traveling to. For most places, there are good picture books with maps and practical advice.
Most people are aware that it is crucial for the development of your research, career, and continuing education to attend conferences by –
gaining new knowledge, 

getting to present your work, 

making new professional contacts, 

accessing opportunities to advance your career, publish your research, etc.
Presenting at an environment conference, no matter how scary, allows others in your discipline to comment on your work, often sparking a discussion that can help you review the weaker aspects of your research work while further strengthening its stronger features. Not just that, but with the right networking, it can also really give your career a boost – you never know who you might get along with. But first, you need to know how to apply and have your work accepted at the conference that you wish to participate in. Hopefully, the suggestions highlighted in this blog will give you the edge over your peers when it comes to successfully applying for the best events.