What Type Of Visa Is Required To Attend A Conference In The USA?
The type of visa that those wishing to attend conferences in USA will need is the B-1 visa, which is also known as the business visitor visa. The Class B visa is a sort of nonimmigrant visa issued by the United States government to foreigners seeking temporary access to the nation.
The B1 Visitor visa is for those who are travelling for –
Consulting with business associates

Participating in an educational, professional, scientific, or business seminar or conference

Settling an estate

Negotiating a contract
The B2 Visitor visa is for those who are traveling for –
Tourism

Vacation (vacation)

Visiting with friends or relatives

Obtaining medical treatment

Participating in social events hosted by social, service, or fraternal organizations

Amateur participation in a musical, sporting, or similar events or competitions, if they are not remunerated for their participation

Enrolling in a short recreational, non-credit study program toward a degree (e.g., a two-day cooking class during the holidays).
Acquiring A Visa For A Conference In USA?
Conference attendees need to take note of the fact that their visa application process can take eight months or more. This is why it is encouraged that if you're from another country other than the United States, you should apply for a visa as soon as possible, but no later than three months before you wish to visit the United States of America to take part in the conference. It is vital to remember that a visa isn't really a guarantee that you'll gain entry into the United States of America.
Individuals can submit a request by completing the Invitation Letter Request Form online or by fax. You must include –
the title of the conference, 

your entire name as is shown on your passport, 

your gender, 

date of birth, 

full mailing address, 

passport number and 

country of issue, and 

your phone numbers.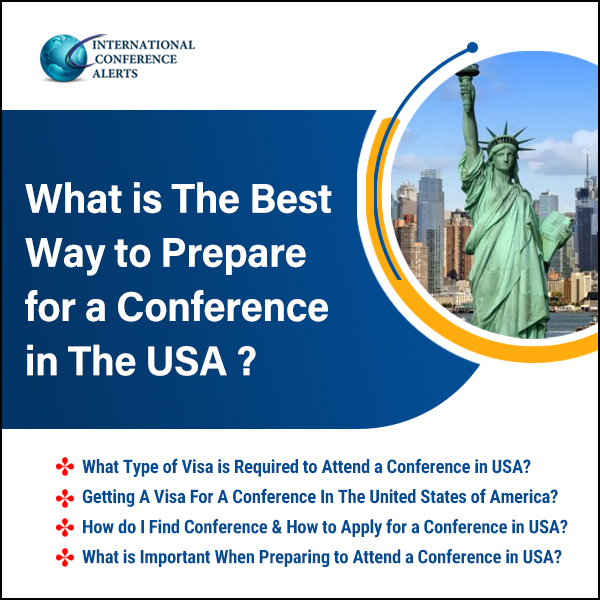 How Do I Find A Conference & How Do I Apply For A Conference In The USA?
Phony conferences are becoming quite common these days. Lucky for you, the International Conference platform lists every single legitimate upcoming business conference in USA. Nevertheless, there are several ways to determine whether a conference is deemed or not.
Whether you're looking for an academic conference in USA, a medical conference in USA, a nursing conference, a dental conference, or otherwise, you'll do yourself a world of good by depending on this platform for any and all information you require on upcoming conferences in the USA. 
Available on this platform are detailed listings for upcoming conferences in all disciplines and across all major cities in the USA. If you prefer being notified about the best upcoming conferences in your field and city of choice, all you've got to do is subscribe to the free-of-charge conference alerts that are on offer on this platform. 
There are seven exact steps to applying for a visitor visa to the United States of America. The order of these steps and how they have to be completed may vary with the U.S. embassy or consulate.
Complete your visa application online
Schedule an interview at the embassy/consulate
Take note of all waiting times and interview appointment times
Prepare for your interview
Gather the required documentation
Gather any additional documents as required
Attend your visa interview
What's Important When Preparing To Participate In A Conference In The USA?
Adhering to the following steps will help you put yourself in the best frame of mind to make the most out of an international conference in the United States of America.
Determine what you want to get out of the conference in the USA

Determine who you would like to meet before the conference begins

Connect via pre-event social media

Sleep well.

Manage your diet carefully

Hit the gym

Stay at the conference hotel for ease of travel and accommodation

Organize an event outside the conference to meet up with people whom you may not have a chance to meet at the conference

Review the conference agenda and pick those sessions that appeal to you in advance

Watch any and all videos of the speakers to get yourself acquainted with their work

Look up a map of the conference venue and familiarize yourself with it

Set your out-of-office reply

Make sure you have a methodical system in place to collect contact information

Prepare to take photos with other attendees for easy social media content

Make sure you've got everything you need to take detailed notes on each speaker

Bring your own power bank

Have an elevator pitch prepared

Prepare some simple conversation starters
How Do You Share Conference Experience?
You can share your conference experience in the following ways – 
Obtain any slides or presentation materials and store them internally.

Gather all links to any popular platforms you use and put them on an internal page.

Organize a short session (a lunch and learn session or a separate knowledge-sharing session) that highlights some of the discussions that have the most impact on the way you work. Focus on that and not what you enjoyed. Include fun, entertaining activities to engage your audience.
Try the activities – there may be a few small changes you can make based on learning. If you can get help, set up a change project. It is a real effort to constantly change the organization.
Whether you're from Dallas, Austin, New York City, Los Angeles, San Francisco, Omaha, Miami, Detroit, Tennessee, Baton Rouge, New Orleans, Houston, San Diego, Seattle, New Jersey, Boston, Las Vegas, Salt Lake City, or Chicago, head over to  https://internationalconferencealerts.com/international-conference-usa.php, if you wish to find the best upcoming conferences.