Scopus-indexed journals undergo a strict and comprehensive peer-review process. So, every research published in them is of high quality and original. So, the Scopus-Indexed Journals list is used by students, scientists, funding agencies, and others who want to advance their knowledge in their respective fields. Anyone can easily access and cite studies published in these journals, thus supporting their own research. 
How To Find A List of Scopus Indexed Journals 2023
We've created the following extensive list to help you easily go through the updated Scopus journals.
Russian Law Journal – Q2
ISSN :2309-8678 / 2312-3605
Indexed In: Scopus
European Chemical Bulletin
ISSN:2063-5346
Indexed In: Scopus
International Journal of Professional Business Review
ISSN:2525-3654
Indexed In: Scopus
Journal of Survey in Fisheries Sciences
ISSN:2368-7487
Indexed In: Scopus
Res Militaris
ISSN:2265-6294
Indexed In: Scopus
Journal of Pharmaceutical Negative Results – Q4
ISSN :2229-7723 / 0976-9234
Indexed In: Scopus and ESCI-Web of Science
Journal for ReAttach Therapy and Developmental Diversities
ISSN:2589-7799
Indexed In: Scopus
HIV Nursing
ISSN:1474-7359
Indexed In: Scopus
Mathematical Statistician and Engineering Applications – Q4
ISSN:2094-0343
Indexed In: Scopus
Journal of Positive School Psychology (JPSP) – Q2
ISSN:2717-7564
Indexed In: Scopus
International Journal of Mechanical Engineering – Q4
ISSN:0974-5823
Indexed In: Scopus, Scimago
Specialists Ugdymas/ Special Education – Q4
ISSN:1392-5369
Indexed In: Scopus, Scimago
Journal of Positive Psychology and Wellbeing – Q2
ISSN:2587-0130
Indexed In: Scopus, Scimago
Webology – Q3
ISSN:1735-188X
Indexed In: Scopus
AIP Conference Proceedings
ISSN:0094-243X
Indexed In: Scopus, Web of Science
Review of International Geographical Education Online – Q3
ISSN:2146-0353
Indexed In: Scopus
Journal of Physics
ISSN:1742-6596
Indexed In: Scopus
Natural Volatiles and Essential Oils – Q3
ISSN:2148-9637
Indexed In: Scopus
Universal Journal of Public Health
ISSN :2331-8880(Print), 2331-8945 (Online)
Indexed In: SCOPUS
Environment and Ecology Research
ISSN:2331-625X (Print), 2331-6268 (Online)
Indexed In: SCOPUS
Journal of International Dental and Medical Research – Open Access Journal – Q3
ISSN:1309-100X
Indexed In: SCOPUS
Experimental Oncology – Q4
ISSN:1812-9269
Indexed In: Scopus and PubMed
Colombian Journal of Chemical-Pharmaceutical Sciences
ISSN:0034-7418
Indexed In: Scopus
Journal of Medicinal and Chemical Sciences
ISSN:2651-4702
Indexed In: SCOPUS
Foods and Raw Materials – Q3
ISSN:2308-4057
Indexed In: Scopus, ESCI-Web of Science
Journal of Chemical Health Risks
ISSN:2251-6719
Indexed In: SCOPUS
Food Science and Technology
ISSN :2331-513X (Print); 2331-5156 (Online)
Indexed In: SCOPUS
Universal Journal of Agricultural Research
ISSN:2332-2268 (Print); 2332-2284 (Online)
Indexed In: SCOPUS
Law, State, and Telecommunications Review
ISSN:1984-8161
Indexed In: SCOPUS
Universal Journal of Accounting and Finance
ISSN:2331-9712 (Print); 2331-9720 (Online)
Indexed In: SCOPUS
AIMS Materials Science – Q3
ISSN:2372-0484
Indexed In: SCOPUS, Scimago, ESCI-Web of Science
Civil Engineering and Architecture – Q3
ISSN:2332-1121
Indexed In: SCOPUS
Materiale Plastice – Q3
ISSN:0025-5289
Indexed In: SCOPUS, Scimago
AIMS Neuroscience – Q4
ISSN:2373-7972
Indexed In: SCOPUS, SCIMAGO
AIMS Environmental Science
ISSN:2372-0352
Indexed In: SCOPUS, ESCI-Web of Science
Mathematics and Statistics
ISSN:2332-2144
Indexed In: SCOPUS
International Journal of Human Movement and Sports Sciences
ISSN:2381-4403
Indexed In: SCOPUS
Indexing is the collection, analysis, and careful organization of data. It indicates the authenticity and reliability of a journal. In fact, it goes far beyond basic categorization and involves sorting data on various factors. These include genre, scope, region, and other points of differentiation for effortlessly exploring the topics.
In 2004, Elsevier created Scopus, an abstract and citation database, with the aim of facilitating progress in the sciences and healthcare for institutions and professionals. Scopus is widely regarded as the top database for peer-reviewed journals, making it the ideal choice for indexing. Being indexed by Scopus means that any works published by a journal are included among the 70 million other works in the Scopus database, which further enhances their visibility and impact.
The Scopus journal is well known among researchers and scientists for providing and accessing a variety of knowledge. It grants credibility and accessibility to conference papers, academic publications, and other such scholarly material. But before getting into the details of the Scopus-indexed journals list, you must understand what an indexed journal is.
But how do you find a list of Scopus-indexed journals as per your needs? This is what we are going to find out in this blog. Let us get started: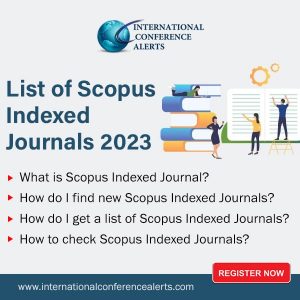 What is a Scopus-Indexed Journal?
Owned by Elsevier, one of the biggest journal publications, Scopus is an abstract and citation database. It is highly valued in technical, scientific, and medical fields for its promise of high-quality, valid research content. Academicians, scientists, and experts look forward to getting their work cited on the list of Scopus- indexed journals. This not only adds validity to their work but also provides them with wide exposure and visibility. 
Scopus-indexed journals list has thousands of publications and conference minutes. It provides scholars with a world-class resource for staying updated on the latest advancements in their fields. So far, it has published 22,000 titles from more than 5,000 global publishers. Besides, Scopus metric tool is free and easy to use for searching a wide variety of papers. 
Journals indexed on Scopus undergo a detailed review process that assesses the quality, relevance, and academic accuracy of the issued content. Scopus indexing increases your journal's visibility, citation potential, and exposure within a field. 
Some key features of Scopus are:
Broad Range:

Scopus indexes content from countless journals, ensuring access to a number of

conference proceedings

, trade publications, and book series.

Tracking of Citations:

It allows you to track citations and measure the impact of research through its citation indexing feature. 

Author Profiles

: A Scopus-indexed journals list provides individual profiles of authors. It showcases their publication history, citation metrics, h-index, and co-authorship networks.

Search Features:

The platform offers user-friendly interaction, allowing you to use advanced filters and find significant works.

Analytical Tools:

These tools can assist you in looking for research gaps, potential collaborators, and emerging areas of study.

Comprehensive Guide:

Scopus has linked an

e-guide

on its website at the bottom-left of its home page. This can help you get started with Scopus and discover everything about its journals. 
How Do I Get A List of Scopus-indexed Journals?
Scopus is a simple platform with easy-to-understand features like any other search portal. Just follow these steps to find a new list of Scopus- indexed journals:
Visit the website

– The

official website of Scopus

is the best source itself for finding its latest journals. Once you open the site, click on the "Sources" tab to get journals on various subjects. 

Look for sub-fields:

When you are selecting your subject, make sure to carefully choose the sub-categories under it. This can make your search more refined and offer precise results. 

Choose the right keyword

: Using an apt term saves time, helping you find the most relevant journals.  So, enter a keyword for exploring the required list of Scopus- indexed journals related to your search.



Find by publication date:

If you want to find recently added journals, you can use the "Sort By" option and choose "Publication Date (Newest First)" to see the most recently indexed journals at the top of the list.



Explore Journals

: In the Sources section, you will find different options to explore, such as Journals, Conference Proceedings, Trade Journals, and Book Series. Click on the "Journals" option.

 Scopus Metrics:

CiteScore, SJR (SCImago Journal Rank), and SNIP (Source Normalized Impact per Paper) are among the journal metrics provided by Scopus. These offer a complete list of journals and their metrics, allowing you to locate papers that meet your requirements.

Library:

Many university libraries often maintain a Scopus-indexed journals list. You can get in touch with these academic institutions for indexed journals in specified fields of study.

Scientific Bibliographies:

Many scientific databases and directories (Directory of Open Access Journals (DOAJ) and Web of Science) create lists of indexed journals, including the ones by Scopus. These resources can help you recognize Scopus-indexed journals for 2023 and provide further information on them. 

Conference Websites

– Our conference alert website also provides access to a complete

list of Scopus journals 2023

.

You can subscribe to our portal to stay up to date on the Scopus-indexed conference in 2023.

You will find a list of various –
Fields and disciplines

Publication modes (open-access and subscription-based)

Impact factors (high to low)

Target audiences

Research interests

Publication times (fast and moderate to slow)

Log on to the Scopus website
You can access the Scopus website through the following link: https://www.scopus.com/home.uri. Once you have logged on to the website, you will land on the home page that displays different options.
How to Check Scopus-Indexed Journals?
Many papers and publications out there claim to be indexed by Scopus. But how do you know if that's true? To verify this, follow these steps:
Step 1: Find the Journal's ISSN or PISSN number – These are unique 8-digit characters generated both for e-print (ISSN) and conventional publication (PISSN).
Step 2: Go to an Index Check Platform – Open an index checker site like ABCD Index and enter the ISSN/PISSN number on its search portal. You can alternatively enter the publication title as well to search. 
Step 3: Check out the List – You'll come across a verified Scopus-indexed journals list. You can then find all the information such as issue number, country, area, and the publisher's name. 
Alternative methods of finding Scopus-indexed journals
In addition to using the Scopus website, there are several other ways you can use to find Scopus-indexed journals. You can search in academic databases, such as Web of Science, PubMed, or Google Scholar. These reputable databases offer a comprehensive list of Scopus-indexed journals, along with their impact factors. You can also check the websites of specific journals to see if they are indexed in Scopus. 
Criteria for Scopus Indexed Journals
Scopus index journals must fulfill some particular criteria related to content, quality, reputation, publishing standards, and language. Now moving forward in this blog, we will talk about each of these criteria in detail. Let's take a look:
Content: To get indexed in Scopus, journals must have high-quality and original research that contributes to the advancement of knowledge. The content should be highly relevant and valuable to the academic community. In addition, the research should be conducted as per rigorous scientific standards.
Quality: Journals must meet high-quality standards when it comes to the rigor of the peer-review process, ethical standards, and editorial policies. The peer review process should be comprehensive, fair, and thorough. Moreover, the journal should have clearly outlined policies for authorship, research misconduct, and conflicts of interest. The editorial board must have a good reputation in the academic community, and it should constantly strive to maintain the quality of the journal.
Reputation: Journals should be well-established and have a proven history of publishing the best-quality research. The reputation of the journal should be based on its scholarly contributions to the field, the quality of the research published, and the impact of the research on the academic community.
Publishing standards: Journals should have a consistent publishing schedule and be available in electronic and print formats. The journal should have a well-defined scope and aims, and the research published should be relevant to the journal's focus. The journal should also have clear guidelines for authors on the preparation and submission of manuscripts, including formatting and citation requirements.
Parting Thoughts
In summary, a list of Scopus-indexed journals is a useful and reliable source for researchers who need highly reliable, best quality, and reputable publications. By following the above-listed steps in this blog, you can easily find a Scopus journal list and use advanced search options to achieve better results. Moreover, by following the criteria outlined in this blog, you can ensure that you are using the most reliable and relevant sources for your research.