Conferences in Canada are the best way to present research in front of a group of people in your discipline. They are also a great means for keeping your research front and center. While it's easy to put off research because it's not urgent like work/course work or teaching, participating in international conferences in Canada (and all the preparation that goes with doing so) helps give researchers the impetus to impose on themselves deadlines for their research work.
To help you sort through the many steps involved in attending Canadian conferences or annual professional meetings, this blog divides the process into three steps – 
Things to think about before even applying for a Canadian conference,

Acquiring an official invitation letter, and 

Applying for a Canadian visa. 
This checklist can be made use of to help you get the most out of any upcoming Canadian conferences that you may choose to take part in.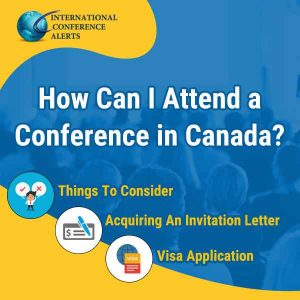 #1 Things To Consider
Recognize Your Canadian Conferencing Objectives   
This is the first step in which you should ask yourself –

"why do I want to attend a Canada conference?" 

"what opportunities do I wish to avail of?"
Make Note Of Important Dates & Keep Track Of Changes To These Dates 
Once you have decided to attend a certain Canadian conference, write down all the important dates somewhere.

Important dates include –  

the registration deadline, 

the deadline to submit your abstract, etc.

Talk To Your Managers/Supervisors
You may need to have a discussion with your supervisor about the findings of your research or the part of your research you are going to present. 

You can also discuss which conference-related expenses you need to cover and which can be covered by your company/institution.

If you are a student and are going to a Canadian conference in the middle of the semester and are likely to miss classes or exams, you will have to contact your department heads well in advance to let them know of your plans.

If you're a professional, you'll need to let your managers know of your intention to partake in a conference in Canada so that they can grant you leave.
Apply For A Travel Grant
There are a number of funding sources on and off campus (particularly for students, educators, researchers, and academics) to cover the expenses of participating in a conference.

Information on funding opportunities might be available on the department's website; a few external travel grants can even be found on the Graduate Studies webpages of colleges' websites. 

Many professional associations even offer conference travel grants, so be sure to check those out as well.
Apply For Scholarships, Research Funding Grants, Etc
Most Canadian conferences offer participant recognition awards like –

Best Poster Awards, 

Outstanding Graduate Student Awards, 

Best Paper Awards, etc.

If you are confident you could win one, go for it. 

Awards enrich the resume and can help you get more recognition or even a position in the future.
Register Early
When attending a Canadian conference, you may need to –

book airfare, 

rent a car, and

book accommodation. 

By making these reservations as quickly as possible, you avoid the eleventh-hour rush before the Canadian conference. 

Stay at the conference venue (in case it's a hotel or a resort) to be in the middle of conference activities and try sharing a room with a colleague or another participant to save money as well as to get to know someone new.
Prepare Your Presentation
If you are planning a poster or oral presentation, edit it several times to make sure it is as concise and engaging as possible. 

Go through or think back to the most world class, memorable, and inspiring presentations you've ever seen, make note of all aspects of those presentations that you enjoyed, and implement those very features in your own presentation. 
Keep Practicing
When you've finished preparing your poster or presentation, think about potential questions you might be asked. 

Schedule practice sessions with your supervisor, friends, and classmates. 

Their recommendations will help you improve the presentation.
#2 Acquiring An Invitation Letter
A canada conference invitation letter is proof that your paper submission and registration request are accepted by the conference board of the conference in Canada that you wish to take part in. 

The letter will be issued in English, unless you're a French citizen (in case you can also have in issued in French). 

An invitation letter, however, does not in any way guarantee you a visa.

Invitation letters will only be sent once you have registered for an international conference in Canada and have paid the registration fees in its entirety. Invitation letters are normally only sent by email.

To request an invitation letter, simply send the conference organizers an email with the following data – 

Registration Confirmation Details,

Proof of payment,

Passport size photo,

Scanned copy of passport.

Send your request to the official email address of the conference organizing committee. 

If you require a visa to take part in the conference, it is important for you to note that the organizing committees of conferences, in most cases, do not have any say over the outcome of your visa application process or the decision of the embassy or consulate visa adjudicator. 

The conference, therefore, cannot be responsible for the actual issuance of visas. 

The duration of this process varies for different individuals; it is therefore strongly advised to start your application as soon as possible.

If your application is refused, the organizers cannot normally influence the decision of Immigration, Refugees, and Citizenship Canada (IRCC) and will also typically not engage in discussion or correspondence with IRCC or the Embassy on your behalf
#3 Visa Application
Several conferences are beginning to take place all over Canada. 

Regular academic conferencing activity levels in the country have almost returned to normal ever since they diminished with the start of the pandemic.

The Canadian federal authorities decide on public welfare measures for travelers worldwide.

So, if you plan to travel to Canada for an international conference, you should check the measures in force at all times. 

And these current measures are being applied across the nation. 

Federal policies and provincial limitations can be posted on any government website.

Additionally, the CBSA (Canada Border Services Agency) website offers checklists for documents and guidelines you will need to follow when crossing the border. 

The following guidelines will help you learn about visitor visas and how to overcome felony inadmissibility. 
Participants & Presenters Require Different Documents
Participants and presenters who wish to visit Canada to attend a conference or an academic event of some sort need to present different sets of documents in order to avail of a Canadian visa. 

Then they need permission to enter the country, such as an eTA or visitor visa. 

A travel visa, however, isn't required for citizens of the United States who are planning on visiting Canada for a conference. 

Citizens of the USA only have to obtain relevant authorization at the border. 

Nevertheless, citizens of all other nations will need an eTA or visitor visa.
eTA (Electronic Travel Authorization)
ETA stands for Electronic Travel Authorization. 

This is a digital travel authorization. 

You need to complete the form via the official Government of Canada website, which will hardly take less than a few minutes. 

Due to unforeseen circumstances (such as the recent pandemic), however, processing time can take days. 

The cost of this form varies from time to time. 

It is best to look up the official website for this info. 
Documents Required To Complete The eTA Application 
Make sure you have a valid passport issued by the visa-exempt country.

You must have a valid and operational email id.

You are also required to have any one of the following payment cards to make payment for the eTA online form – 

Visa, MasterCard, or American Express Credit Cards;

Visa, MasterCard, or American Express Prepaid Cards;

Visa or MasterCard Debit Cards;

UnionPay Card;

JCB Card, or

Interac.
The eTA Application Process
Step 1
Have your passport, debit, or credit card close by, and make sure to read carefully and understand the help document well.
Step 2 
Always use the online form. 

And keep your information ready because the form cannot be saved.
Step 3
Complete the payment for your eTA in Canadian dollars after filling in the online form.
Step 4
Watch out for an email confirming the receipt of your eTA application. 

Most applications are approved within minutes.
Step 5
You will have to submit the essential visa application documentation in order for your application to be taken in consideration and approved successfully. 

If your Canadian visa application is approved, you will be sent a confirmation email with instructions within 72 hours.
TRV (Temporary Resident Visa)
TRV is also referred to as the Canadian visitor visa, or we can say short-term resident visa. 

For instance, a person is visiting Canada for more than four to five days to present a work-related conference.

Also necessitates authorization to enter the country and a work permit. It usually depends on the country a person is traveling from; they will always need a visit visa or an eTA.

Nevertheless, they will be treated as business visitors.
Necessary Documentation To Successfully Apply For A Canadian Visa
You are required to have a valid travel document, such as a passport.

Your state of health must be good.

You must make sure you don't have a criminal record.

You might be asked to submit your biometric data.
In Case You've Got A Criminal History
In this case, you will miss out on the chance to go to Canada if you have a criminal record. 

Every person has a different scenario. 

Certain criteria determine whether a person is inadmissible or not. 

Such as – 

the type and variety of crime

dimensions of the prison sentence, if applicable;

how long has it been since the end of the sentence (jail, fine, and probation);

The following three solutions help in overcoming inadmissibility in the case of a criminal record – 

a TRP (Temporary Residence Permit);

demonstration of appropriate criminal rehabilitation;

a legal opinion letter.